Replace your old thermostatic valve with Shelly TRV in less than 5 minutes on any number of radiators in your home and control them no matter where you are. Shelly TRV has a rechargeable battery with time between charging up to 2 years (depending on usage and network quality).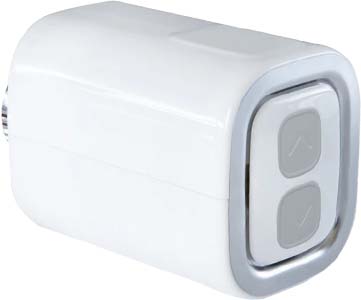 Device identification

Device name: Shelly TRV

Device SSID: shellytrv-XXXXXX
Short description
Shelly TRV is a smart thermostatic valve, which has a rechargeable battery and allows remote control of radiators through a mobile phone, tablet, PC, or home automation system. It can work standalone in a local Wi-Fi network or it can also be operated through cloud home automation services.
Shelly TRV can be accessed, controlled, and monitored remotely from any place where the User has internet connectivity, as long as the device is connected to a Wi-Fi router and the Internet.
Shelly TRV has an embedded Web Interface which can be used to monitor and control the device, as well as adjust its settings.
Main applications
Residential

MDU (Multi Dwelling Units - apartments, condominiums, hotels, etc.)

Light commercial (small office buildings, small retail/restaurant/gas station, etc.)

Government/municipal

University/college
Integrations
Google

Samsung SmartThing

Alexa
Device electrical interfaces
Inputs
Connectivity
User interface
Inputs
Reset button

Press and hold for 5 seconds to enable the Device access point connection.

Press and hold for 10 seconds to factory reset the Device.

Up and Down buttons

Change temperature - press any of the buttons briefly, so that the device will display the mesured temperature for 3 seconds. You can also press and hold one of the buttons for 3 seconds to see the current temperature. Then, using the Up and Down buttons, you can set your target temperature ( from 5°C to 30°C).

Check status - press and hold both buttons for 5 seconds, then use either one of the buttons to scroll through the parameters (including Mode, Battery level and Status).
Outputs
Two-digit seven-segment LED display
Supported valves
Without adapter
With supplied adapter
Danfos

Caleffi

Giacomini

M28 x 1.5

Sam

Slovarm

Comap

Markardys

TA

Herz

MMA

Remagg

Pont a Mousson
With third-party adapter
Gampper (27 mm thread and inner thread M22)

Glacomini

Ista

Meges (M38 x 1.5)

Ondal (M38 x 1.5)

Oventrop (M30 x 1.0 with 4 prongs)

Rossweiner (M33 x 2.0)

Vallant (30.5 mm)
View the full list of valves and their compatibility:
Shelly TRV valves compatibility list
Specifications
Type

Value

Physical

Size (HxWxD):

94x62x53 mm/ 3.7x2.44x2.08 in

Weight:

240 g / 1.35 oz

Mounting:

Radiator valve

Mounting ring:

M30x1.5

Shell material:

Plastic

Color:

White

Environmental

Ambient temperature:

-20 °C to 40 °C / -5 °F to 105 °F

Humidity

30 % to 70 % RH

Electrical

Power supply, Batteries

Li-ion 3.7 V / 6500 mAh

Estimated battery life

Up to 2 years (depending on working conditions)

Power supply, USB

Type-C (power adapter and cable not included)

Radio

RF band:

2401 - 2495 MHz

Max. RF power:

<20 dBm

Wi-Fi protocol:

802.11 b/g/n

Wi-Fi Range:

Up to 30 m / 100 ft indoors and 50 m / 160 ft outdoors
(Depends on local conditions)

MCU

CPU:

SiLabs

Flash:

6 MB

Firmware capabilities

Schedules:

5 profiles

Webhooks (URL actions):

6 with 5 URLs per hook

Scripting:

No

MQTT:

Yes

CoAP:

Yes

Sensors

Internal-temperature sensor:

Yes
Troubleshooting
...
Web interface guide
Read the Shelly TRV web interface guide
Components and APIs
Printed User Guide
Multilanguage user guide - English, Deutsch, Italiano, Español, Português, Français
Compliance
Installation guides