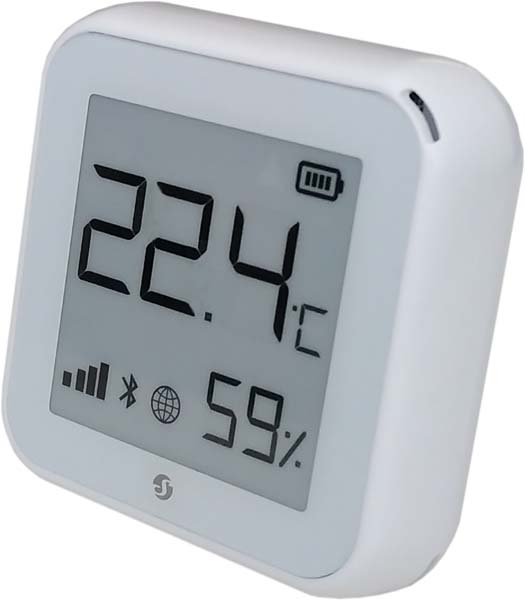 Device identification
Device name: Shelly Plus H&T

Device model: SNSN-0013A

Device SSID: ShellyPlusHT-XXXXXX
Short description
Shelly Plus H&T (the Device) is a Wi-Fi smart humidity and temperature sensor, featuring a large e-paper graphic display.
Main features
Wi-Fi Connectivity: The device can connect to your home Wi-Fi network, allowing you to remotely monitor humidity and temperature data through a smartphone app or other compatible devices.

Large E-Paper Graphic Display: It features a large e-paper graphic display that provides clear and easy-to-read humidity and temperature information.

Integration with Smart Home Platforms: You can integrate the Shelly Plus H&T with popular smart home platforms, including Google, Alexa, and Samsung SmartThings. This enables voice control and automation capabilities through these platforms.

USB Type-C Port: It includes a USB Type-C port for powering the device. While it cannot be used to charge the device's batteries, it allows for continuous power through a USB connection.

Bluetooth Connectivity: Bluetooth is available for inclusion purposes, which may be useful during the setup process.

User-Friendly Interface: The device provides a user-friendly interface with a reset button for manual interactions.

Battery Operation: When running on batteries, the device wakes up at set intervals to take measurements of humidity and temperature. It reports changes in data based on predefined thresholds and unconditionally reports its status to the cloud if no reports are made within a specified time.

USB-Powered Operation: When powered via its USB port, the device wakes up more frequently, performs measurements, updates its display, and unconditionally reports data to connected channels.

Environmental Specifications: The device is designed for use in various environments, with an operational temperature range of 0°C to 40°C (32°F to 105°F) and a recommended humidity range of 30% to 70% RH.

Power Supply Options: It can be powered by 4 AA batteries (not included) or a USB Type-C connection.

Wireless Connectivity: The device supports Wi-Fi (802.11 b/g/n) and Bluetooth 4.2 protocols with specified indoor and outdoor range capabilities.

MCU (Microcontroller Unit): The device is equipped with an ESP32 MCU with 4 MB of flash memory.

Firmware Capabilities: It supports MQTT for communication and various features such as webhooks and scripting.
These features make the Shelly Plus H&T a versatile and convenient device for monitoring humidity and temperature in residential, multi-dwelling units, light commercial, university/college, and other settings, with the added benefits of smart home integration and ease of use.
Main applications
Residential

MDU (Multi Dwelling Units - apartments, condominiums, hotels, etc.)

Light commercial (small office buildings, small retail/restaurant/gas station, etc.)

University/college
Integrations
Google

Alexa

Samsung SmartThings
Device electrical interfaces
USB Type-C port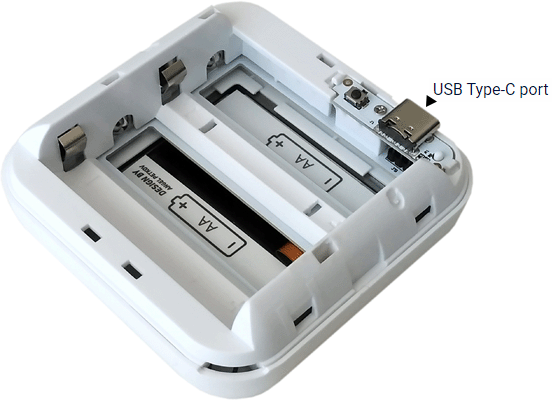 To supply power to the Device.

Cannot be used to charge batteries inside the Device.
Connectivity
User interface
Inputs
Reset button (behind the back cover)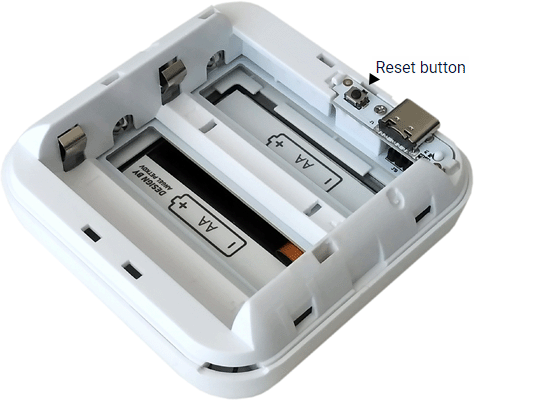 Outputs

| | |
| --- | --- |
| | The Device is in Setup mode. |
| | The Device access point is enabled. |
| | Humidity readings |
| | The Device is receiving over-the-air update. Shows the progress as a percentage instead of the humidity. |
| | The Device has reported current readings to the Cloud. If missing, the current readings on the display are not yet reported. In this case, the readings on the display may differ from the ones in the Cloud. |
| | Wi-Fi signal strength indicator |
| | Indicates battery level. Shows an empty battery when only USB powered. |
| | Bluetooth connectivity is enabled. |
| | Error while updating the Device firmware. |
Measuring and reporting
On batteries
When running on batteries the Device behaves as follows:
Wakes up every minute to do a measurement. If there is a 0.2 °C temperature or 3% humidity difference the screen updates. The default threshold for reporting is a change of 0.5 °C or 5%. If the change is less there will be no report sent.

If for two hours there is no report based on threshold values, the Device unconditionally (disregarding threshold values) reports its status to Shelly Cloud and other connected channels.

Due to self-heating a cool down period of 5 minutes is imposed. During this period the Device would not wake up at all.
On USB power supply
If powered via its USB port the Device will wake up every 5 minutes, perform a measurement, update its screen, unconditionally report to all connected channels, and sleep for 5 minutes.
User initiated report
If the user presses the Reset button (behind the cover) the Device will wake up, perform a measurement, update its screen, unconditionally report to all connected channels, and sleep for 5 minutes.
Specifications
Type

Value

Physical

Size (HxWxD):

70x70x26 mm / 2.76x2.76x1.02 inch (without stand)
70x70x45 mm / 2.76x2.76x1.77 inch (with stand)

Weight:

Mounting:

With stand (on a horizontal surface)
Wall mounting (using screws with head diameter 5-7 mm / 0.20-0.28 inch and max 3 mm / 0.12 inch thread diameter or double sided foam sticker)

Shell material:

Plastic

Color:

White

Environmental

Ambient temperature:

0 °C to 40 °C / 32 °F to 105 °F

Humidity

30 % to 70 % RH

Max. altitude:

2000 m / 6562 ft

Electrical

Power supply, Batteries

4 AA (LR6) 1.5 V (not included)

Estimated battery life

approx. 1 year (depending on batteries used, temperature and humidity changes, and network connection strength)

Power supply, USB

Type-C (power adapter and cable not included)

Radio

RF band:

2400 - 2495 MHz

Max. RF power:

<20 dBm

Wi-Fi protocol:

802.11 b/g/n

Wi-Fi Range:

Up to 30 m / 100 ft indoors and 50 m / 160 ft outdoors
(Depends on local conditions)

Bluetooth Protocol:

4.2

Bluetooth Range:

Up to 10 m / 33 ft indoors and 30 m / 100 ft outdoors
(Depends on local conditions)

MCU

CPU:

ESP32

Flash:

4 MB

Firmware capabilities

Schedules:

No

Webhooks (URL actions):

10 with 2 URLs per hook

Scripting:

No

MQTT:

Yes

CoAP:

No
Troubleshooting
...
Web interface guide
Read the Shelly Plus H&T web interface guide.
Components and APIs
Compliance
Printed User Guide
Download printed user guide - English, Deutsch, Italiano, Español, Português, Français
Installation guides