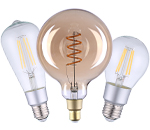 Downloads
Manuals
Certificates & Declarations
EU Declaration of conformity Shelly Vintage G125
EU-Konformitätserklärung Shelly Vintage G125
ЕС-Декларацията за съответствие Shelly Vintage G125
EU Declaration of conformity Shelly Vintage A60 ST64
EU-Konformitätserklärung Shelly Vintage A60 ST64
ЕС-Декларацията за съответствие Shelly Vintage A60 ST64
What is Shelly Vintage?
Vintage bulb with a spectacular design
Control the lighting at home, no matter where you are. Now you won't be leaving the lights on and your home won't welcome you in darkness. Shelly Vintage Bulbs can be set to automatically turn on/off based on the sunrise and sunset hours.
Features
No HUB required.

Wide range of voltage support.

Dimmable white light by fine-tuning your brightness.

It can be integrated to work with all other Shelly devices.

Compatible with Android, iOS, Amazon Alexa, Google Assistant, and home automation servers using MQTT, CoAP, and REST API.

Easily make your Arduino project live and usable in your automation project.
Specification
POWER

Power Rating

Socket

E27

Power supply AC

230 V ±10%, 50 Hz

Power supply DC

No

SPECIAL FUNCTIONS

Device temperature protection

No

Overload protection

No

Power measurement

Yes

Dimming

Yes

FEATURES

Brightness

750 Lm (A60, ST64)

260 Lm (G125)

Beam angle

360°

Color changing

No

Color Index

Ra > 80

Color Temperature

2700 K (Warm white)

Filament

Straight

Glass/Coating

Clear

Predefined effects

No

Protection Class

IP20

Operational temperature

-10 ºC to +40 ºC

Device power consumption

< 1 W

Local and remote control

Yes

Sunrise/Sunset

Yes

Weekly Schedule

Yes

Lifetime

15,000 hours

CONNECTIVITY

Wireless / Wi-Fi Protocol

802.11 b/g/n

RF band

2400 – 2484 MHz

Max. RF power

< 20 dBm

Range

up to 50 m outdoors and up to 30 m indoors (depend on the building materials)

DIMENSIONS

Size

60 mm x 115 mm