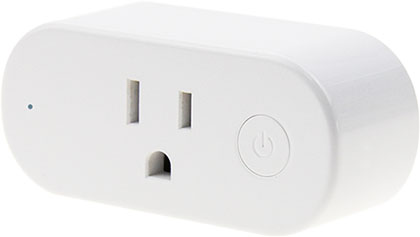 Downloads
Manuals
What is Shelly Plug US?
The smallest Wi-Fi smart plug with power мetering
Shelly Plug US automatically monitors and controls lightning, heating or any other connected electrical appliance at home, no matter where you are. When an electric appliance, such as a lamp, is plugged into the Shelly Plug US, you can switch it on and off through the Shelly Cloud mobile application at any time, from anywhere.
Features
No HUB required.

With Shelly Plug US you can control a wide range of devices and appliances.

Shelly Plug US has an integrated precise power meter.

It can be integrated to work with all other Shelly devices.

Compatible with Android, iOS, Amazon Alexa, Google Assistant, and home automation servers using MQTT, CoAP, and REST API.

Easily make your Arduino project live and usable in your automation project.
Specification
Power

Power supply AC

110-230V ±10%, 50/60Hz

Power supply DC

No

Special functions

Device temperature protection

Yes

Overload protection

Yes

Power measurement

Yes

Features

Maximum load

15A at 110V; 12A at 230V

Operational temperature

-10ºC to +50ºC

Device power consumption

< 1 W

Intelligent On/Off

Yes

Local and remote control

Yes

Sunrise/Sunset

Yes

Weekly Schedule

Yes

Connectivity

Wireless

802.11 b/g/n

Wi-Fi Protocol

802.11 b/g/n

Wi-Fi Radio frequency

2400 – 2500 MHz

Wi-Fi Range

up to 50 m outdoors and up to 30 m indoors (depending on the building materials)

Dimensions

Size

50mm x 37mm x 83mm