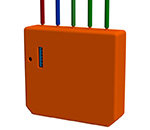 Downloads
Manuals
Certificates & Declarations
What is Shelly i3?
The most intelligent device
Shelly i3 has no relays but is small enough to be installed virtually anywhere and shows the status of 3 inputs. The device is in one of the switches and can command other connected Shelly relays, sensors, or HTTP, MQTT or CoAP controlled devices. Opportunities are endless through discrete commands on the home network or scenes in the cloud.
Features
No HUB required.

Wide range of voltage support.

Multi-click support – Up to 24 possible actions.

3 AC inputs.

Designed to fit in most standard electrical boxes and switches.

It can be integrated to work with all other Shelly devices.

Compatible with Android, iOS, Amazon Alexa and home automation servers using MQTT, CoAP, and REST API.

Easily make your Arduino project live and usable in your automation project.
Specification
POWER

Power supply AC

110-230V ±10%, 50/60Hz

Power supply DC

24 – 60V

SPECIAL FUNCTIONS

Complex scenes control

Activate or deactivate synchronized actions of several Shelly devices

Overload protection

No

Power measurement

No

Working without a neutral line

No

FEATURES

Channels

3 Channels

Operational temperature

0 to + 40 °C

Device power consumption

< 1 W

Intelligent On/Off

No

Sunrise/Sunset

No

Weekly Schedule

No

UL Listed option

No

CONNECTIVITY

Wireless/WiFi Protocol

802.11 b/g/n

Radiofrequency

2400 – 2500 MHz

Range

up to 50 m outdoors and up to 30 m indoors (depending on the building materials)

DIMENSIONS

Size

40mm x 36mm x 10mm
Wiring diagrams