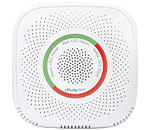 Downloads
Manuals
Certificates & Declarations
ЕС-Декларацията за съответствие
What is Shelly Gas?
A smart gas sensor
Many home appliances are dependent on natural gas, but not many homes have sensory detection for gas leaks, which can be dangerous. 2 types of Shelly GAS detector – Compressed Natural Gas (CNG) or Liquefied Petroleum Gas (LPG) are providing additional protection for your home and family. Its long life span, little sensitivity drift, and Wi-Fi technology allow you always to know if gas is threatening your home.
Features
No HUB required.

2 types of the gas detector – LPG or CNG

Sound and light alarm with an app notification.

Flame-resistant shell.

It can be integrated to work with all other Shelly devices.

Compatible with Android, iOS, Amazon Alexa, Google Assistant, and home automation servers using MQTT, CoAP, and REST API.

Easily make your Arduino project live and usable in your automation project.
Specification
SPECIAL FUNCTIONS

Power supply AC

110-230V ±10%, 50/60Hz

Power supply DC

No

SPECIAL FUNCTIONS

Gas detector

Compressed Natural Gas – CNG / Liquefied Petroleum Gas – LPG

Device temperature protection

Yes – Flame Resistant

FEATURES

Alarm indicator

LED Flash & Sound

Alarm sensitivity

6% LEL

Sound level

≥70dB

Valve manipulator jack output

11-13V, 500mA

Operational temperature

-10ºC to +50ºC

Device power consumption

< 3 W

Intelligent On/Off

Yes

Local and remote control

Yes

CONNECTIVITY

Wireless/WiFi Protocol

802.11 b/g/n

Radiofrequency

2400 – 2484 MHz

Range

up to 50 m outdoors and up to 30 m indoors (depending on the building materials)

DIMENSIONS

Size

89.5 mm x 89.5 mm x 38 mm (plug not included)