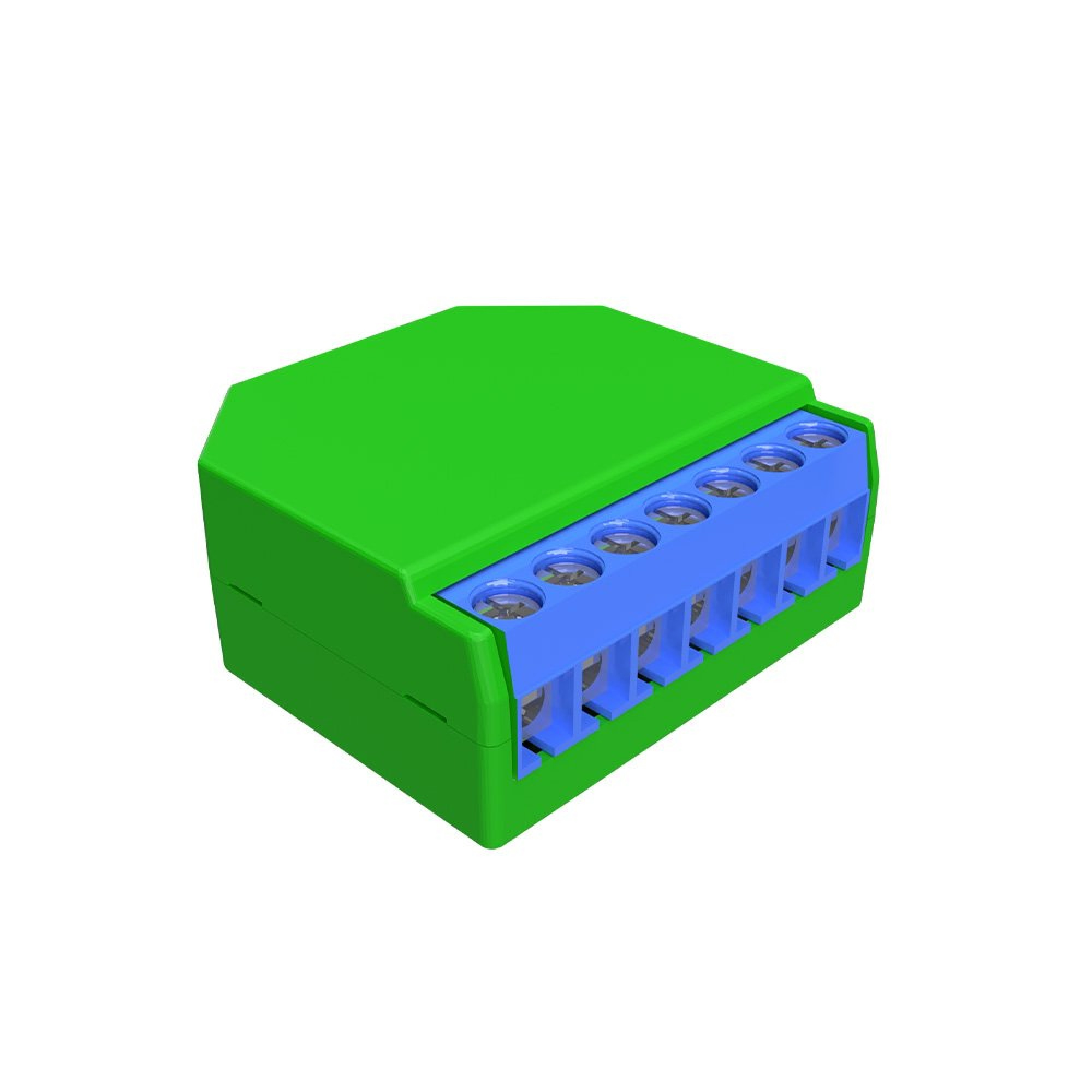 Downloads
Manuals
Certificates & Declarations
What is Shelly Dimmer 2?
Dimming without a neutral line
We developed Shelly Dimmer 2 to be able to cover all possible electrical installations all over the world. Shelly Dimmer 2 can be used in houses where the neutral line is missing and provides a full set of dimming functionalities. You can control a wide range of halogen lights, dimmable LEDs and ferromagnetic transformers.
Features
No HUB required.

Dimming without a neutral line.

Turn ON/OFF or use the dimming function to set the brightness to your preferred intensity,

Integrated internal temperature sensor for overheating protection.

Designed to fit in most standard electrical boxes and switches.

It can be integrated to work with all other Shelly devices.

Compatible with Android, iOS, Amazon Alexa, Google Assistant, and home automation servers using MQTT, CoAP, and REST API.

Easily make your Arduino project live and usable in your automation project.
Specification
POWER

Power supply AC

110-230V ±10%, 50/60Hz

SPECIAL FUNCTIONS

Device temperature protection

Yes; 95°C

Overload protection

Yes

Power measurement

Yes

Dimming

Yes

Operational current:

0.1-1.1 A

Dimmable LED

50-200VA / 10W – 200W

Incandescent and halogen light sources

10-220W

Working without a neutral line

Yes

FEATURES

Colour changing

No

Predefined effects

Yes

Channels

1 Channel

Operational temperature

0 to + 40°C

Device power consumption

< 1 W

Intelligent On/Off

Yes

Local and remote control

Yes

Sunrise/Sunset

Yes

Weekly Schedule

Yes

UL Listed option

No

CONNECTIVITY

Wireless/WiFi Protocol

802.11 b/g/n

Radiofrequency

2400 – 2500 MHz

Range

up to 50 m outdoors and up to 30 m indoors (depending on the building materials)

DIMENSIONS

Size

42mm x 36mm x 14 mm
Wiring diagrams
*When using the device without neutral, Shelly Dimmer 2 requires at least 20W @ 240 VAC of power consumption to operate. If the connected light has a smaller power consumption, then Shelly Bypass is needed for the device to work.
Use cases
Lighting control
Install Shelly Dimmer, and control any lights at home easily via your smartphone or with your voice. When you are reading your favorite book in the evening, picking a stronger light will ease your eyes. Also, dimming the lights during movie nights has never been easier!
Projects
Shelly Dimmer Wall Switch With Rotary Knob and Home Assistant Integration
Learn how you can add convenience to your smart home with Shelly Dimmer 2 by controlling your lights even when your Wi-Fi connection is down.
Living Room for Movie With Shelly
Learn to create very simple automation using Google Home routines to make your living room all set for a comfortable movie night.
Reviews
DrZzs
Smart Dimmer by Shelly + Excellent Home Assistant Integration
Jimmy James